Happy Basset Hound Owner Testimonials
From Indiana:
Hi Dan,
I am reaching out to be placed on the waitlist for a basset hound puppy, hopefully in the summer of 2024. We purchased a basset hound from you with the litter that went home in the summer of 2021. I attached a picture of Oliver just so you can see! Looking forward to hearing from you soon. You have the best looking basset pups by far!!
Thanks,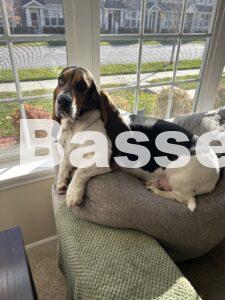 From Illinois:
Dan,
"Dorie" is doing great!!! She's a wonderful addition to our family!!
Jim and Jennifer
From Oklahoma: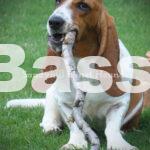 Hello Dan,
Twiggy is 1 today. She is something else. Twiggy definitely has the hound howl down!!!!! It's the only singing howl I've ever heard!!!!
Ralph
From Michigan:
Hi Dan,
I recently purchased one of Julie's puppies born 12/29/22. Just thought I would drop you a note to give an update.
He is growing so fast and is so very smart; already potty trained for outside, can sit and lay down, knows out and leave it. He is also full of personality, a very confident puppy who loves exploring new things and loves everyone he meets haha. Everyone who meets him is immediately in love with him.  He is just so fun and so personable.
Pat
From Illinois:
Hi Dan,
I am taking a moment because I just realized I never sent you a thank you email. I appreciate you working with my son and his girlfriend last year to get me my little black and brown pup. We ended up naming her Snoopy and boy does she keep me on my toes. She is a doll. I have four of your pups. Pearl (tri), Novah (lemon), Sam (tri) and Snoopy (black and brown). I will have to one day get a pic of them together and send it to you for your website. I can not believe that Pearl is going to be 8 this year. One day I will have to get me a chestnut colored one (maybe they are called reds?) I will probably think about it for next June when I turn 50. Some people jump from a plane. I get a new basset. LOL. I hope you are still breeding at that time because you still make the best basset hound puppies. They really are great dogs.
Thank you,
Genny
From Illinois: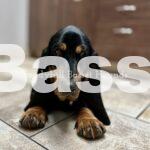 Hope you are well. In case you wonder how cute is Bilbo. Bilbo is so good and we are happy and grateful. Took Bilbo to vet and he is doing great and very healthy. Thanks! Have a happy Thanksgiving and a blessed Sunday!
Waldo
From Michigan:
Hello Dan,
The puppy is doing fantastic. We named her Daisy. She is healthy and happy and we love her very much! Here are a few photos.
We wish you a Happy Thanksgiving!
Doug and Lisa D.
From Indiana: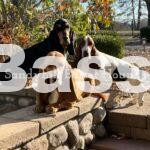 Hi Dan,
I hope this note finds you well. We need not have worried about adding Stormy to our family. Rocky and Bella took her under their wing after about a week of adjustment. Here is a photo taken today of all 3 today in our backyard, displaying your full range of colors 🙂
Wishing you and your family a great thanksgiving,
Mark, Adele and family
From Canada: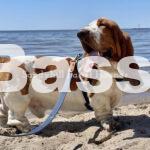 Hi Dan,
This is Natalie with an update on Fred from Hazel Belle and Murphy's May 28, 2021, litter. Fred has been living his best life in Canada and has brought me so much joy over the past 10 months. He is truly a beautiful dog with a wonderful personality. He is so sweet and affectionate and gets along with all dogs and humans. Fred generates a lot of attention wherever he goes and brings a smile to everyone who encounters him. It is never a dull moment with him as he never fails to make me laugh. He is full of personality. He is an excellent sleeper and has been from the beginning.
Fred is healthy & happy. His vet is very happy with his progress and size. I keep him active and he enjoys his walks in nature.
I look forward to my future with Fred as he is a blessing in my life. Thank you for bringing this sweet boy into my life.
Natalie (and Fred)
From California:
Hi Dan, just wanted to let you know we got home safe on Thursday eve. The flight  was very bumpy, but we got back to SF finally, and our little girl was a champ all the way. United was great. You can take dog up to 20lbs on the flight with you in the cabin. The carrier worked and I followed your advice not to take her out in the airport. The guy that sat next to me on the flight let me know that on the Spotify app you can download soothing puppy music and heartbeats – and he put his phone up to her crate for the entire flight and it seemed to soothe her. We are so in love with her and her sweet, feisty self! Haven't yet named her, but hoping to this weekend.
I just want to say thank you so much! I have had such a great experience working with you. It was wonderful coming to Indiana and seeing your dogs and the farm. I am sure I was a bit frazzled on Wednesday when we met…I haven't had a puppy since I was a teenager, but she is amazing. Will keep you updated on her growth and our adventures! All the best,
Tara
From Illinois:
Hi Dan,
We picked up the most adorable puppy from you back on January 29th. Our pup Walter, met his ACTUAL brother, Limoncello, on the street in the city of Chicago. It turns out that they go to the same dog daycare. I was picking him up one day and saw a pup that looked just like him and struck up a conversation with his owner. We quickly learned that Walter and Limoncello are brothers! They are from Cherry Belle & Gunther's litter! We couldn't believe the small world connection in the best way. They had the chance to play together at daycare today. I wanted to share this video with you to see how two of your pups connected! We cannot believe we found Walter's brother. We are in love and obsessed. Thank you for all that you've done to bring some of the GREATEST dogs into our lives! I've grown up with dogs my entire life, and I have to say that Walter is probably the best puppy we've ever had. He is a dream – so smart, so loving, so loyal. I couldn't mean this more – Walter is the sweetest puppy we've ever had. We are in awe of him and cannot imagine life without him, even though it has only been five months. Thank you so much for everything!
Emily
From Indiana:
Hi Dan,
No rush for us. Thanks for the update. As we have 1 male and 1 female already, do you have a recommendation on whether we should add a male or female to our family, or is it random if they all get along? Rocky and Bella are inseparable, we really couldn't wish for two more compatible dogs so hoping we get the chemistry right with number 3 🙂  We are not concerned, just wondering if you have any advice in this regard? BTW we ran into a neighbor who is also a customer of yours…..we must have the highest population density of bassets in our city in our neighborhood. All the best!
Mark & Adele
From Oklahoma: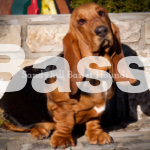 Hello,
You come highly recommended and I know first hand how awesome your Bassets are. My daughter, Megan purchased a female Basset, Sissy, from you 2 years ago this July. Sissy is WONDERFUL!!!!
Our family has raised 8 Bassets over the years. We currently have a 4 year old Lemon Basset named Norman and we are looking to add another female lemon to our family.
Ralph
From Illinois:
Hi Dan! It's Garret and Jen…..we love our girls! Bertha and Reba love Chicago and are so spoiled!! Thank you!! We love our addition to our family.
Reba – brown ears
Bertha – black ears
Garret & Jen
From Ohio:
Recently I was introduced to Fred the basset on Instagram, originally from the U.S. and presently living in Canada. He stole my heart with his thick, lovable squishiness (what a magnificent young man! Basset perfection!) So I messaged his family to find out from where he originated. Low and beyond, he is from Sandyhill bassets! I currently have a lovely basset who makes me laugh every day and I can't imagine life without one of these creatures. When the time comes and I am ready to add to the madness, Sandyhill will be my first call. Living in Ohio with Indiana an easy drive away (no shipping stress) makes it that much more appealing.
Wendy