Happy Basset Hound Owner Testimonials
From Utah: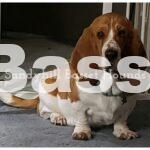 Hi Dan, I wanted to share with you a photo of my handsome boy. We took this last night. He weighs 51 pounds and is doing so well. He's all the way potty trained and is VERY proud of himself. He is SO SMART! He sits and reasons things out and one of his favorite things to do is to climb an old fountain we have in our back yard. We have blocked it off and he keeps finding all sorts of new ways to climb up the fountain and look over the fence. My husband said he wondered if he had a bit of Mountain Goat in him? Ha ha. We will be tearing the fountain down because he simply won't stay away from it.
HE LOVES STICKS! Brings us sticks in from outside constantly. Some of these sticks are bigger than he is and he will sit and figure out ways to get them through the doggie door. The funny thing is, is that when we tell him "NO, you can't bring that in here." He gives us this look and then turns around and takes the stick back outside.
WE CAN'T BEGIN TO TELL YOU HOW MUCH WE LOVE HIM!
I hope you don't mind me sending you updates? I just figure you'd like to see how your beautiful puppies are doing.
Take Care and thank you for the Light of my life
Antoinette
From Indiana:
Hi Dan,
Not sure if you remember me, but we got a puppy (Judy) from you back in July. She is doing great! Healthy, happy, and loved. She's weighing in at 51 pounds now! Anyway, just wanted to give you an update on one of your hound dogs.
Take care, and thank you.
Jarod S.
From Washington:
Hi Dan. Not sure if you remember me. I bought 2 Bassets from you a year apart, Bentlee and Birklee, in Spokane WA. I just wanted to let you know Birklee will be featured in a Facebook commercial. He received his first paycheck today. $150. I'm so excited. Ill try to put it on your Facebook page. Proud Momma today! They are such amazing boys! Thank you.
Tracy
From Utah:
Hi Dan,
This is my Boy Ollie. We took him to see Santa today. I love him so much and he's getting sooo big! You sent him to me on July 25th, 2019, to Utah. . He couldn't be loved more. Thank you so much for my baby! He's a happy little guy!
Toni M.
From Georgia: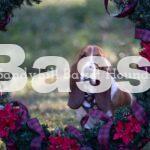 Hi Dan,
I just wanted to update you on sweet Nelson. He is doing well and acts like he has been here forever. He is definitely Sydney's boy. He sleeps with her and follows her every step. When she leaves the house, Larry and I listen to him cry for Sydney for a bit and then he realizes my lap is almost as good as hers. He is a sweet little boy, but is very jealous if any of us give the other dog attention. It gets quite interesting when my oldest daughter comes home from college with her two dogs. But they all do good together.
I just wanted to let you know what a sweetheart he is and how much we love him. We had family pictures made and the below picture was one of Nelson. The photographer loves it so much he is using it to advertise his business on social media.
I trust you and your family are well. I hope you have a blessed Christmas.
Elizabeth
From Indiana: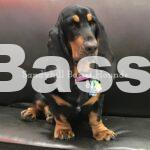 Hi, Dan—
Thanks for letting us stop by with our girl. She is most precious and well-loved!
Wherever we go, Roger and I are known as Belle's parents. Henrietta Belle (she goes by "Belle") is definitely a showstopper! We can't take her anyplace without drawing a crowd. This not only has to do with her looks, but also her sweet, funny personality. We can't wait to get our second puppy this spring.
Roger and Linda
From Utah:
Hi Dan, Just wanted to tell you that the Puppy, we named him Oliver, Ollie for short is doing GREAT He has already mastered the doggie door. He doesn't quite know yet that it is access for pottying, because he usually asks to go out after he's pottied. 😛 but he's doing really well with using the papers inside. He is so SMART! He LOVES being outside. I have trouble getting him to come back in. My husband and I just LOVE him to pieces. Ollie was so worth the wait! He has his vet appt tomorrow for shots and a well puppy check up, which I'm sure he will pass with flying colors. Thank you so much for all you did we love him so much.
Toni M.
From Illinois:
Dan, I hope all is well! I've been meaning to reach out to you for a long time now. I just wanted to let you know that we couldn't be happier with Remington. He'll be turning 1 year old on February 5th. He's got such a great personality, and he gets along so well with other dogs and all humans. It's nearly impossible for him to see a dog or person on one of his walks without him getting overly excited to play, and then he pouts when he gets taken away from play time. From start to finish, you were so easy to work with, and you're a great breeder! My wife Christine is already talking about Remington needing a brother, so who knows if we'll be seeing you again soon.
You can see some [more] photos of Remington on his Instagram account at the link here:
https://www.instagram.com/remingtonthebassethound/
Thanks so much!
Dylan
From WI:
I had bought a Basset Hound puppy from you on June 24, 2017 to use for hunting rabbits. The pup's name was "Flicka" but I changed it to "SLUG NOGUNSHY." I sent you a couple of pictures – maybe you can use them on your web site. He is doing a fantastic job tracking and hunting rabbits for being less than a year old – very good and very smart. He also has a playmate named "Gauge" who is a 5 year old German short hair. They are two peas in a pod playing all the time.
"No brush pile too far, no bunny too tough." Every rabbit hunter should have a Basset Hound.
Brian S.
From Colorado:
Dear Dan, I wanted to share a few photos of Dolly and Barney. They both keep us entertained, and we love both of them so, so much! I will look forward to purchasing another Basset in the future. I'm thinking of trying to get one next Spring. Thank you for working with us!
P.S. Kendra taught Barney to sit up on his bottom. Here he is sitting up pretty…hoping for a treat!
The Wood's Happy Hound Home
From Iowa:
Gus was from Charlie's litter born on 7/25/18.  Such a good boy!
Liz
From Iowa: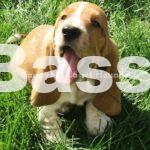 Thanks for everything, Dan.  We are so pleased with our puppy, and are so happy that we found you. Have a great Sunday!
Liz
From Illinois:
Hello Dan,
Hope all is well. I just wanted to thank you for everything you have done for us. We brought Lola home Aug 11, and couldn't be happier. She is such a sweetheart and her little personality is really starting to shine. She fits in perfect with our family. You were so easy to work with it and it took a long time getting the perfect puppy and perfect timing for our family. Thank you for your patience. We will never forget the day we picked her up. Visiting your farm and meeting her mom, dad and siblings is a memory we will always have. Thanks again and hope all is going well over there!
Becky
From North Carolina: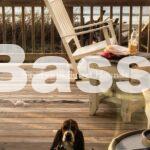 She had her paw on the glass, wanted to come in !!!! She is a great puppy Dan !!!! Thanks
Davenports
From Indiana: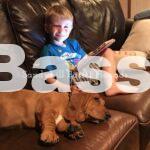 Just a short note to let you know that Thelma is doing very very well!! Vet was quite taken with her! More later!
Amy N.